Today I wanted to highlight the "rabat." And, unlike the "biretta" I really like the rabat. I like the collar, how the white is raised above the black all the way around. I like the buttons on the front. I like that I could put it on overtop a more breathable shirt, then put a suit coat on and still look fine. It is definitely pretty cool.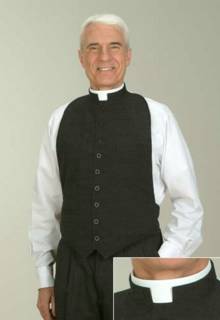 definite pastor chic

However, I'm not sure it's $89 worth of pretty cool... Which is what this particular rabat costs. I mean, it's not even a full shirt for crying out loud.
Oh well...